Ward 3 Resident,
As your City Councilman I am doing all I can to help you and your families through this COVID-19 emergency. I get daily updates from our State Lawmakers, various agencies, and officials on this every changing situation. I have even participated last Friday in a teleconference with our United States Congressman Anthony Gonzalez and other elected officials to provide input on how the federal government can help us here locally and our first responders on the front lines of this war against COVID-19. As of yesterday the Governor reported that state-wide there are 1,933 confirmed cases, 39 deaths, and 493 cases here in Cuyahoga County. I am continuing to get complaints from residents about people in our community not following the Stay at Home Order by the State of Ohio and being large groups or not practicing social distancing. If you see a large group of folks not complying with the Stay at Home Order, please contact the North Royalton Police Department when it happens at 440-237-8686. They can politely remind them of the order and get them to disburse. We all need to do our part! This is very serious and we must #StayHome to #FlattenTheCurve and end the community spread of COVID-19. Hang in there and we can get through this but we all must work together to fight this war on COVID-19!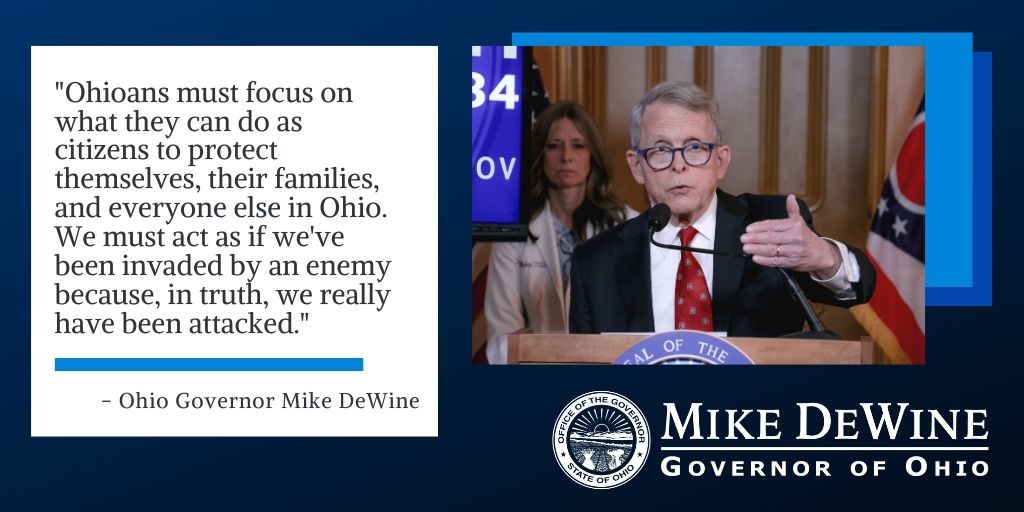 Stay at Home Order Remains in Effect
Just a reminder Ohio Department of Health Director Dr. Amy Acton's Stay At Home order remains in effect till April 6, 2020 in order to prevent the spread of COVID-19. Click Here for any additional updates, extensions, or additional orders issued. Click Here read the full order which explains the parameters of the order and lists all of the businesses and organizations that are permitted to stay open. Click Here to read the Ohio Department of Health's FAQs regarding the Stay at Home order.
Top 4 places to get accurate and 24/7 situational information you need to know in staying safe throughout this emergency are the following resources:
Centers for Disease Control (CDC)
https://www.cdc.gov/coronavirus
State of Ohio & Governor Mike DeWine
https://coronavirus.ohio.gov/wps/portal/gov/covid-19/home
Cuyahoga County Board of Health
https://www.ccbh.net/coronavirus/
City of North Royalton
Website: www.northroyalton.org
Facebook: https://www.facebook.com/CityofNorthRoyaltonOH/
COVID-19 Hotline: 833-427-5634 or 833-4-ASK
Some additional things to update you on since my last update below:
Sunday March 29th Flooding & Storm Damage
If a national emergency wasn't enough to deal with. Mother Nature on Sunday, March 29th hit our area and surrounding communities of Parma, Parma Heights, and Seven Hills with a terrible storm. The City had crews out as early as 2:00am working to deal with the aftermath of the heavy rain and strong winds. Crews are still cleaning up from the storm. There were a few parts of our ward that were impacted and I have requested assistance for those who needed it. If you still have an issue to report contact the City Service Department at (440) 582-3002.
Federal, State, and Local Tax Filing Deadlines Changed due to COVID-19
The filing deadline for Federal and State of Ohio Income Taxes has been moved from April 15 to July 15 2020. All taxpayers and businesses will now have this additional time to file and make payments without interest or penalties. Also Ohio's Municipal Income Tax returns and payments for tax year 2019 with a due date of April 15, 2020 have been extended to July 15, 2020 as well. Estimated payments for the first and second quarters of tax year 2020 have also been extended to July 15, 2020. No request for extension or other filing is required to receive these extensions. No late filing or late payment penalties, or interest, will be imposed for the period of April 15, 2020 through July 15, 2020 for these extended filings and payments. Read More. Please continue to check the Internal Revenue Service Website at www.IRS.gov for updates. You can also check for updates on state and local taxes from Ohio Department of Taxation on their website at tax.ohio.gov.

March 17, 2020 Presidential Primary Changes due to COVID-19
The Ohio General Assembly has approved a plan that will allow all Ohioans to continue voting by mail until April 28, 2020 for the March 17, 2020 Presidential Primary due to COVID-19. Don't lose your voice! Vote! Read More. Some key things to note are: No in-person voting at polling location; Only those registered to vote by the primary deadline of February 18, 2020 are eligible to vote;Absentee Ballot Request Deadline: Noon, Saturday, April 25, 2020; Ballots must be postmarked by: Monday, April 27, 2020; All votes already submitted by mail or in-person will be counted; and Click Here to request a Vote by Mail Application.

HB 197 Passed
The Ohio Senate and Ohio House of Representatives have unanimously passed Amended Substitute HB 197, the Tax Code Streamlining and Correction Act. This existing tax bill was amended to address many subjects brought on by the COVID-19 emergency. Click Here for a summary of the changes to the bill related to COVID-19.

CARES ACT
The U.S. Congress has passed a $2.2 trillion stimulus bill called the CARES ACT to provide relief to the economy due to the COVID-19 pandemic. Key elements of the proposal are $250 billion set aside for direct payments to individuals and families, $350 billion in small business loans, $250 billion in unemployment insurance benefits and $500 billion in loans for distressed companies. Click Here to view a summary of key parts of the law.

COVID-19 Scams
Beaware of COVID-19 Scams that going around. Click Here to view a Scam Alert from Cuyahoga County Consumer Affairs.
North Royalton City Government Important Updates Regarding COVID-19
Click Here to View Current Updates from the City of North Royalton.
Important Information Regarding Rumpke Waste & Recycling Collection
Rumpke is closely monitoring the rapidly changing public health environment and following sanitary protocols recommended by the Centers for Disease Control and Prevention (CDC) as well as OSHA. Employees have been instructed to follow CDC recommendations regarding proper hand washing and sanitization. Rumpke's safety team is reinforcing that field employees, including drivers, landfill and recycling team members, continue to wear required personal protective equipment, including gloves and protective eye wear. It has elevated cleaning procedures, reinforcing cleaning of frequently touched surfaces inside its facilities. Rumpke is encouraging office personnel to limit travel and conduct meetings virtually, when possible, and has suspended public tours of Rumpke sites as well as participation in public events through the end of April. Residents can help Rumpke by bagging all trash, thereby reducing employee exposure to items like used tissues and other personal hygiene products. Ensure you only place the correct items in your recycling container. Remember items such as tissues, napkins and paper cups aren't accepted. Rumpke is experiencing higher call volumes at this time, so if you have a question, please consider contacting Rumpke Customer Service via email at Rumpke.com or through Facebook private message. To further slow the spread of COVID-19, some operational changes will be made to help reduce potential exposure to our staff, while also being mindful of the safety and well-being of our community. Our Saturday drop-off station, located at 11545 Royalton Road, will be CLOSED until further notice. Daily curbside trash and recycling pick-up will remain as scheduled. Residents can call the Service Department at 440-582-3002 with questions.
North Royalton Food Bank
During these difficult times, the North Royalton Food Bank is reaching out to the community to assist in its efforts to serve those in need. Anyone who would like to give, by donating food or monetary donations, can contact the food bank directly at 440-237-7958 EXT 200. The North Royalton Food Bank is located at 11680 Royalton Road (entrance is off Abbey Road). Non-perishable items sought include: spaghetti noodles and sauce, canned fruit, dry cereal, oatmeal, macaroni and cheese, tuna, canned chicken, beef stew, chunky soups, saltine crackers, Jell-O and pudding, rice and complete pancake mix, as well as hygiene products. Also if you are a resident who needs assistance with food due to job loss as a result of COVID-19 or other reasons, please also contact the North Royalton Food Bank for help at 440-237-7958 EXT 20 too.
North Royalton COVID-19 Cases
COVID-19 cases are throughout Cuyahoga County, including even here in North Royalton per reporting last Friday from Cleveland.com. Read More . Many residents have contacted me about this and wanting more information. I too want more information on the COVID-19 cases. While I know the Board of Health has to follow HIPPA in protecting patient privacy, I have contacted them urging for them to at least release daily the same amount of basic demographic information the Ohio Department of Health and the State of Ohio provide daily to the public but by city. I encourage you to read an important message from our Fire Chief Robert Chegan about COVID-19 cases in North Royalton. Click Here. Again, please take this seriously! Stay Home and only go out if it is essential!
North Royalton Ward 3 Neighborhood Buddy Program for COVID-19 
If you are Ward 3 resident who is elderly, lives alone, has a pre-existing condition please consider signing up TODAY to participate in the #NRWard3Buddy Program. The purpose of this program is to establish a "buddy" system in North Royalton Ward 3 to ensure vulnerable and hard-to-reach community members stay connected to COVID-19 related news, food, services, and help keep positive morale to get through the COVID-19 emergency safely. If you are interested in having a buddy contact me Ward 3 Councilman Dan Langshaw via email at ward3@northroyalton.org, or online at http://www.danlangshaw.com/contact or by phone at 440-785-4240.  Also you can learn mroe about the program by Clicking Here. (Note: Residents not living in Ward 3 who want a buddy will not be turned away).

North Royalton Ward 3 Zoom/Facebook Live Town Hall Meeting
I invite North Royalton Ward 3 residents to join me Friday April 3rd at 7:00pm for a Zoom/Facebook Live Town Hall Meeting regarding COVID-19. I want to continue to listen to resident concerns, questions, and feedback to better understand how to best serve residents all through this crisis. You join on Zoom Meeting at https://us04web.zoom.us/j/9168411434, or dial into Zoom Meeting call 253-215-8782 and enter Meeting ID: 9168411434 # or on Facebook at https://www.facebook.com/DanLangshawNR

North Royalton Ward 3 COVID-19 (Coronavirus) Website
North Royalton Ward 3 Residents Click Here to view the COVID-19 Ward 3 Updates and helpful information.
Ward 3 Residents & Businesses Needing Help Due to COVID-19
I apologize for any delay to anyone's phone calls or emails. I am starting to get caught up. Please if it is an Urgent Issue call or text me at 440-785-4240. All other issues email is the easiest for me to catch up. My email address is Ward3@northroyalton.org. Again if you need food, connection to vital services, and more don't hesitate to contact me.
#StayHome & Save Lives!
Dan Langshaw
Ward 3 Councilman
North Royalton City Council
PS: Due to the large volume of phone calls. I ask residents and business needing assistance, please email me at Ward3@northroyalton.org so it will be easier for me to prioritize who I need to help or direct to the appropriate resources.
#NorthRoyaltonCOVID19