Ward 3 Resident,
We are living in unusual times and the next two weeks or more we may lose more Americans than 9/11. So as much as I like to give you my normal Monthly Ward 3 E-Newsletter I won't be able too. I will give an abbreviated version with basic things going on in City Council, City Government, and Ward 3 while continuing to provide important COVID-19 information you need to know about. I am continuing to get complaints from residents about people in our community not following the Stay at Home Order by the State of Ohio and being large groups or not practicing social distancing. If you see a large group of folks not complying with the Stay at Home Order, please contact the North Royalton Police Department when it happens at 440-237-8686. They can politely remind them of the order and get them to disburse. I was a soldier in my younger years and I was prepared to sacrifice my life for my country if necessary in the defense of my country and for my fellow battle buddies. First Responders especially doctors and nurses don't nor should they sacrifice their lives. Who is going to care for us if we lose them? That was my responsibility and my fellow brothers and sisters in the US Military. So please #StayHome, go out for only essential things (medication, groceries, and work at an essential business etc.) #MaskUpNRWard3, and if outside use #SocialDistancing including for your children. Hang in there and we can get through this but we all must work together to fight this war on COVID-19! Given this week is Holy Week (Easer in a few days too) and if you are religious please pray for all those on the front lines battling COVID-19 like Marissa my wife and the First Lady of Ward 3 who is trying to help save lives!
#StayHome & Still Have a Happy Easter!
Dan Langshaw
Ward 3 Councilman
North Royalton City Council
PS: Due to the large volume of phone calls. I ask residents and business needing assistance, please email me at Ward3@northroyalton.org so it will be easier for me to prioritize who I need to help or direct to the appropriate resources.
#NorthRoyaltonCOVID19
---
Council/City Update & Around Ward 3
Highlights from Council Meetings
Some highlights from the Council Meetings for the month of February. Council approved Ordinance 20-49 which the entire Safety Committee which I Chair sponsored that lowered the city's deer hunting fee from $150 to $75. It is necessary to have this legislation to ensure that this program continues to be successful by being more affordable for residents who are providing a public service. While at the same time continuing to reduce deer vs. motor vehicle crashes to keep the rest of our community safe. Before the hunting program started a few years ago, the deer vs. car crashes were over 200. Last year, the amount was down to 57. I appreciate all the work my fellow Committee Members Ward 4 Councilman Jeremy Dietrich and Ward 6 Councilman Michael Wos did in getting this legislation passed. Read More. Council approved Resolution 20-50 establishing a City Charter Review Commission. Council also approved Resolution 20-51 join the State of Ohio to seek restitution for the opioid epidemic. Read More. Due to the COVID-19  a motion was approved at the March 18th Council Meeting it was unanimously voted on to recess all committee meetings until further notice and that City Council only had to meet once a month or on an emergency basis till the COVID-19 Emergency is over. Read More.
2020 City Budget Approved
On March 3rd City Council unanimously approved Ordinance 20-41 the 2020 City Budget. I appreciate the work some of my colleagues did to discover ways for the city to get some better deals financially for some of the city's departments capital requests to save taxpayer dollars. There is about $3.5 million dollars set aside for road improvements this year. I am especially excited for $50,000 that was added into the final budget that was approved for a city-run Storefront Renovation Grant program that both Councilman Jeremy Dietrich and I advocated for. Now that the budget is approved. Councilman Dietrich, the administration, and I are working together on drafting formal legislation for Council to approve creating this program which will help support our local businesses with improving their storefronts. Read More.
If you like to learn more about what is going on in City Council check out the minutes online by Clicking Here
Congrats!
On March 9th I had the honor of presenting Ward 3 resident and Euclid High School Assistant Football Coach Joe Klir with a Congressional Commendation by our United States Congressman Anthony Gonzalez and a certificate from me. Honoring Joe for being the 2020 Ron Stoops Assistant Football Coach of the Year Award recipient by the National Football Foundation for being one of the best Assistant Football Coaches in Northeast Ohio! Congrats Joe!

Abbey Road Turnpike Bridge Closure
Ward 3 Residents who live on or near Abbey Road. Please be aware that the Abbey Road turnpike bridge is now closed to traffic for bridge work that is being performed by the Ohio Turnpike Commission. The closure is expected to last four months. The detour is Royalton Road to West 130th Street to Sprague Road.

US Census
Every community, county and state uses Census data for planning and funding of schools, businesses and other things that benefit citizens. Funding is often allocated based on the population of certain areas. It is everyone's responsibility to get the count right for Ohio. Click Here to learn more about the US Census and more why your participation is so important.
---
COVID-19 Update
Some additional things to update you on since my last update below:
Stay at Home Order EXTENDED to May 1, 2020
On Sunday, March 22th, under the direction of Ohio Governor Mike DeWine, Ohio Department of Health Director Amy Acton, M.D., MPH issued a director's order to require all Ohioans to stay in their homes to prevent the further spread of COVID-19 beginning at 11:59pm EDT on Monday, March 23, 2020 until 11:59pm on April 6, 2020. This order prohibits holding gatherings of any size and closes all nonessential businesses. It does NOT prohibit essential activities like going to the grocery store, receiving medical care, or taking your pet for a walk. Residents can return home from out of state and can leave the state. Ohio Governor Mike DeWine announced on April 2, 2020 that Ohio's Stay at Home order has been extended until 11:59pm on May 1, 2020.  
Updates to the new order include: 
The creation of a dispute resolution process for situations where two local health departments have come to a different conclusion on what is or is not an essential business.
The requirement that essential businesses determine and enforce a maximum number of customers allowed in a store at one time.  These businesses must ensure that people waiting to enter the stores maintain safe social distancing.
Direction that travelers arriving to Ohio should self-quarantine for 14 days. Exceptions include persons who live and work in trans-border areas, heath care workers, public health workers, public safety workers, transportation workers and designated essential workers. Visitors are instructed not to travel to Ohio if they are displaying symptoms, excepting in certain circumstances for medical care.
The mandate that wedding receptions be limited to no more than 10 people.
A clarification to close campgrounds with the exception where a camper or recreational vehicle in a campground serves as a citizen's permanent residence and they are unable to secure safe alternative housing.
The requirement that public swimming pools and swimming pools at private clubs or housing complexes close to prevent transmission of COVID-19.  This does not apply to private residential pools.
The clarification that retail garden centers can remain open but should determine and enforce a reduced capacity to keep customers and employees safe.
The closure of day camps for children.
The prohibition of organized youth and adult sports.
The clarification that fishing is permitted if proper social distancing is practiced.
Director's Stay at Home Order Amended (PDF)
Director's Stay at Home Order (PDF)

Stay Up to Date on COVID-19
Top 4 places to get accurate and 24/7 situational information you need to know in staying safe throughout this emergency are the following resources:
Centers for Disease Control (CDC)
https://www.cdc.gov/coronavirus
State of Ohio & Governor Mike DeWine
https://coronavirus.ohio.gov/wps/portal/gov/covid-19/home
Cuyahoga County Board of Health
https://www.ccbh.net/coronavirus/
City of North Royalton
Website: www.northroyalton.org
Facebook: https://www.facebook.com/CityofNorthRoyaltonOH/
COVID-19 Hotline: 833-427-5634 or 833-4-ASK
March 17, 2020 Presidential Primary Changes due to COVID-19 Reminder

The Ohio General Assembly passed legislation a plan that will allow all Ohioans to continue voting by mail until April 28, 2020 for the March 17, 2020 Presidential Primary due to COVID-19. Don't lose your voice! Vote! Read More. Some key things to note are: No in-person voting at polling location; Only those registered to vote by the primary deadline of February 18, 2020 are eligible to vote;Absentee Ballot Request Deadline: Noon, Saturday, April 25, 2020; Ballots must be postmarked by: Monday, April 27, 2020; All votes already submitted by mail or in-person will be counted; and Click Here to request a Vote by Mail Application.

Helpful Information on the CARES ACT  passed by Congress
The CARES Act provides an Economic Impact Payment of $1,200 for adults and $2,400 for joint filers due to COVID-19. For each dependent child, a family would be eligible for an additional $500. These checks are reduced for higher income taxpayers and begin phasing out after a single taxpayer has $75,000 in adjusted gross income and $150,000 for joint filers. For more information on the rebate check, please Click Here. Seniors on Social Security won't have to file tax forms to get stimulus checks per additional guidance from the United States Treasury Department. Read More. Please be aware of fraud from scammers looking to take advantage of misinformation on this issue. For accurate and up to date information on how you will receive this money, please see this FAQ page from the Internal Revenue Service (IRS) Click Here.
FEMA Disaster Declaration
On March 31, 2020 the Major Presidential Disaster Declaration approved by President Trump on Tuesday provides grants from FEMA to state and local governments for costs associated with emergency protective measures, such as emergency operations center operations, fire and police services, emergency medical care, sheltering, etc. This declaration shifts some the funding burden from state and local governments to the federal government, with the federal government picking up 75 percent of certain COVID-19 costs, including: Emergency Operation Center costs; State agency purchases in response to COVID; Disinfection of eligible public facilities; PPE; Temporary medical facilities and enhanced hospital capacity. The declaration also allows direct federal assistance to local governments, such as support from the Ohio National Guard and US Army Corps of Engineers. Read More.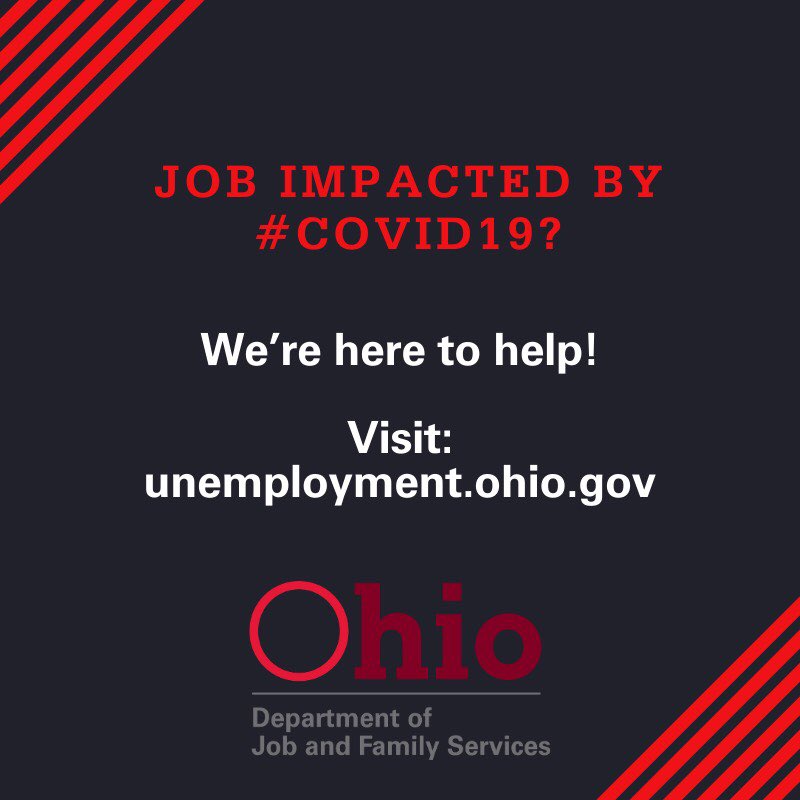 COVID-19 Job Search Resource
Lt. Governor Husted announced last week that the Governor's Office of Workforce Transformation has developed a website specifically geared toward matching essential businesses with Ohioans who are able and willing to work as an essential employee during the COVID-19 crisis. Both essential businesses and current job seekers can visit Coronavirus.Ohio.gov/JobSearch to post and search. The site features a highly-streamlined interface with only two main links – one for essential businesses, and one for job seekers. Applicants can search through jobs in their area, their region, and the entire state. Though many businesses and public places across Ohio and the nation have had to close during the COVID-19 crisis in order to promote social distancing and slow the spread of the virus, there are many businesses, such as grocery stores, healthcare facilities, pharmacies, delivery companies, and many other types of businesses that are essential to ensuring the health and wellbeing of Ohioans during the crisis. These companies are in high need for workers during this time.
North Royalton City Government Important Updates Regarding COVID-19
Click Here to View Current Updates from the City of North Royalton.
North Royalton Food Bank
During these difficult times, the North Royalton Food Bank is reaching out to the community to assist in its efforts to serve those in need. Anyone who would like to give, by donating food or monetary donations, can contact the food bank directly at 440-237-7958 EXT 200. The North Royalton Food Bank is located at 11680 Royalton Road (entrance is off Abbey Road). Non-perishable items sought include: spaghetti noodles and sauce, canned fruit, dry cereal, oatmeal, macaroni and cheese, tuna, canned chicken, beef stew, chunky soups, saltine crackers, Jell-O and pudding, rice and complete pancake mix, as well as hygiene products. Also if you are a resident who needs assistance with food due to job loss as a result of COVID-19 or other reasons, please also contact the North Royalton Food Bank for help at 440-237-7958 EXT 20 too.

#MaskUpNRWard3
The Centers for Disease Control and Prevention (CDC) has recommended that Americans wear cloth face coverings (masks) in public to help slow the spread of COVID-19. This recommendation is being made based on studies that show a significant proportion of people with COVID-19 lack symptoms and can transmit the virus to others in close proximity, through speaking, coughing, sneezing or other means.Ohio Department of Health Director Amy Acton, M.D., MPH, strongly recommends that Ohioans take the following actions: Use coverings in public settings where other social distancing measures are difficult to maintain, such as grocery stores, pharmacies, and public parks. Maintain 6-feet social distancing whenever possible, even if you are wearing a face covering. DO NOT place cloth face coverings on children under age 2, anyone who has trouble breathing, or is unconscious, incapacitated or otherwise unable to remove the mask without assistance. DO NOT use medical supply masks, which must be reserved for healthcare workers, first responders, and people who are known to be sick. Make cloth face coverings from household items or common materials. Use multiple layers of a fabric that does not damage or lose shape when laundered or machine dried. Support small businesses selling fabric masks at a reasonable price, but watch out for scammers offering high-priced or so-called superior masks. Use coverings that fit snugly but comfortably and allow for breathing without restriction. Secure with ties or ear loops. Do not touch your eyes, nose, or mouth when removing the face covering and wash your hands immediately after removing. Launder coverings after each use. Avoid wearing when wet from laundering or from spit or mucus.
Click Here to view CDC Cloth Mask Guidance
Click Here to view CDC Cloth Mask DIY Mask tips
Click Here to view ODH Cloth Mask COVID-19 Check List
North Royalton Ward 3 Neighborhood Buddy Program for COVID-19 
If you are Ward 3 resident who is elderly, lives alone, has a pre-existing condition please consider signing up TODAY to participate in the #NRWard3Buddy Program. The purpose of this program is to establish a "buddy" system in North Royalton Ward 3 to ensure vulnerable and hard-to-reach community members stay connected to COVID-19 related news, food, services, and help keep positive morale to get through the COVID-19 emergency safely. While supplies last every person in the program gets a FREE cloth mask. If you are interested in having a buddy contact me Ward 3 Councilman Dan Langshaw via email at ward3@northroyalton.org, or online at http://www.danlangshaw.com/contact or by phone at 440-785-4240.  Also you can learn more about the program by Clicking Here. Also Click Here to view a recent The Post Newspapers story highlighting the program too. (Note: Residents not living in Ward 3 who want a buddy will not be turned away).


North Royalton Ward 3 COVID-19 (Coronavirus) Website
North Royalton Ward 3 Residents Click Here to view the COVID-19 Ward 3 Updates, alerts, and helpful information including places to get take out and more.
Ward 3 Residents & Businesses Needing Help Due to COVID-19
I apologize for any delay in responding to anyone's phone calls or emails. I am starting to get caught up. Please if it is an Urgent Issue call or text me at 440-785-4240. All other issues email is the easiest for me to catch up. My email address is Ward3@northroyalton.org. Again if you need food, connection to vital services and more don't hesitate to contact me.
---
Upcoming Events
At the March 18, 2020 Council Meeting it was unanimously voted on TO RECESS ALL COMMITTEE MEETING UNTIL FURTHER NOTICE. Click Here to view an updated schedule of what Board or Commission Meetings and or City Council Meetings are still meeting but virtually as approved by the Ohio General Assembly till the COVID-19 Emergency is over.

Monthly Coffee with Councilman Dan Langshaw
If you are a constituent living in the North Royalton Ward 3, you are invited to attend my monthly constituent coffee. I hold these coffees in order to stay in touch with fellow residents and listen to their feedback. There is no appointment necessary. Simply stop by and talk to me.
The next coffee will be held on:
When: April 25, 2020
Time: 12:00pm-1:00pm
Where: ONLINE ONLY on Facebook Live at https://www.facebook.com/DanLangshawNR or on Zoom at https://us04web.zoom.us/j/9168411434

North Royalton Ward 3 Zoom/Facebook Live Town Hall Meeting on COVID-19
I invite North Royalton Ward 3 residents to join me April 11th at 11:30am for a Zoom/Facebook Live Town Hall Meeting regarding COVID-19. I want to continue to listen to resident concerns, questions, and feedback to better understand how to best serve you all through this crisis. Join Zoom Meeting at https://us04web.zoom.us/j/9168411434 or join by phone at 312-626-6799 and enter Meeting ID: 916 841 1434 or on my Facebook page at https://www.facebook.com/DanLangshawNR
---
Contact:
Dan Langshaw
Ward 3 Councilman
North Royalton City Council
14600 State Rd.
North Royalton, OH 44133
Phone: 440-785-4240
E-mail: ward3@northroyalton.org